Offshore Excursions
Interested in venturing beyond the cove? We can help. See below for our recommendations, or ask about other options directly by contacting Concierge.
Scuba Diving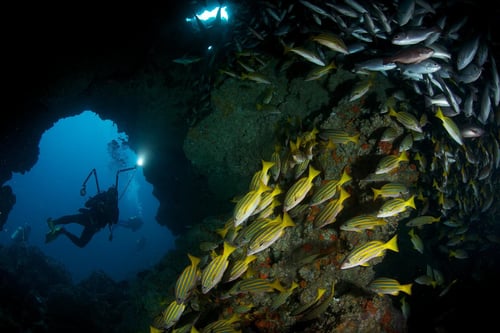 Thanks to the vibrant ecosystems of our coastal waters, diving here can be an truly memorable experience. Warm water and excellent visibility create the ideal conditions for getting offshore and scuba diving, and the biodiversity of the area provides a wide variety of marine life to be discovered. It's not uncommon to encounter some gentle giants of the area, like whale sharks, manta rays, dolphins, sea turtles, and even the occasional humpback whale.
During certain times of year, the Catalinas islands just offshore of town are home to a Pacific Giant Manta Ray dive site, providing one of the easiest opportunities in the world to encounter these graceful rays, which can reach almost 6m or 20 ft across.
For the best diving experience, we recommend one of our partners, ConnectOcean. They have something to offer everyone from youngsters of age 8+ to the lifelong diver, with beginner certifications, charters for families and friends, and even advanced trainings. Make sure to try out their Citizen Science dives if you have the chance -- these dive trips offer certified divers the opportunity to take part in the conservation efforts of the area by helping plant BRUVs, document aquatic life, and even measure sharks and rays using Laser Photogrammetry. All of the data collected is being used to help protect and preserve the area for generations to come, and these dives are a great way to learn about the ecosystems that thrive just offshore.
Along the Coast
Feeling up for a journey along the Guanacaste coast? The local area offers some excellent options to explore the area from the water. See below for our recommendation, or contact Concierge if you're interested in other options.
Sailing Aboard a Catamaran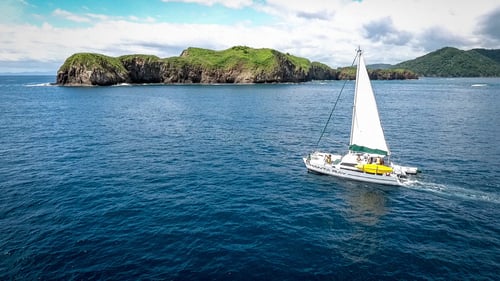 One of the best ways to experience the coast of Guanacaste is aboard a Catamaran Sailboat, surrounded by the gentle waves, warm breeze, and panoramic views of the coastline. Throw in good company, provided drinks and snacks, and a number of interesting coves and islands to explore and you've got the makings for a truly memorable trip. There are many ways to enjoy a Catamaran cruise on the coast, but we've got two particular favorites -- doing a research day with ConnectOcean's Intertidal and Coral Reef Explorer Course, or enjoying a Casual Cruise with one of the local providers.
ConnectOcean's Intertidal and Coral Reef Explorer Trip combines two of ConnectOcean's programs into one exciting experience that explores coves, beaches, and tide pools on the Guanacaste Coast. Focusing on these two very different ecosystems, visitors on this trip learn about the incredible interconnectedness of all aquatic life around the Pacific Coast, and how no matter the environment there's a vibrant and diverse set of life that makes it their home. There's a shore excursion, multiple snorkeling sites, an optional dive, and along the way a number of provided snacks, fruit, and an open bar.

For a more social gathering to kick back, relax, and enjoy the gorgeous weather of the Guanacaste Coast, concierge can also organize a Casual Cruise with a local provider. Departing just after lunch or breakfast depending on preference, these cruises are an excellent way to connect with friends and family, celebrate a special occasion, or simply relish time out upon the sea. With a full snack bar, food provided aboard, fresh fruit, and an open bar filled with interesting cocktails, your brunch hour or happy hour has never been in a better spot. For evening cruises, the major highlight comes at the end, out among the waves watching the sun set on the sea in a moment just as memorable the first time as the fiftieth.
Transit Time: 20 Minutes
Length of Tour: 4-5 Hours
Request info


Ecosystem Expeditions - Artisan Boat Mangrove Tour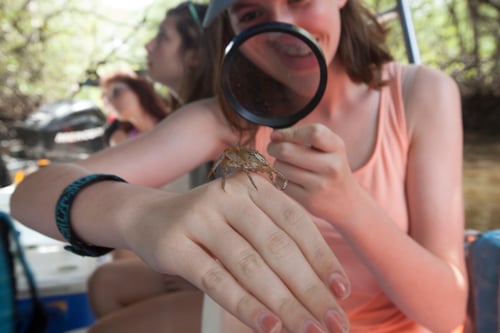 Another option that takes the team deep into the Costa Rican rivers is the Mangrove Explorer program. Departing from Las Baulas National Park in a local Artisanal Boat, the tour ventures up into the mangroves, using the maneuverability of the shallow-bottom vessel to explore wild and hidden areas far beyond the reach of normal watercraft.
Mangroves serve as a natural nursery for much of the country's marine life, so on this trip you can expect to see a wide range of birds, monkeys, fish, and reptiles. Guided by your private Naturalist guide, you get to learn about the fascinating challenges of surviving in a Mangrove, and see the truly unique creatures that make these ecosystems their home.
It's an excellent way for everyone -- kids and adults -- to explore a place that truly feels like another world.
Transit Time: 35 Minutes
Length of Tour: 4-5 Hours
Request info


A Day Around the Cove
Some of the best water experiences around are available only a few steps away from your front door. See our selection of some of the best aquatic activities that depart straight from Playa Danta.
Snorkeling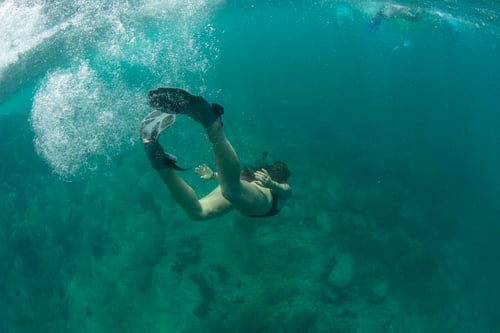 Costa Rica is home to some of the most vibrant natural ecosystems on earth, but a feature of the country that often gets overlooked is the nation's colorful and lively underwater world. Take a snorkel and a pair of fins, and find out for yourself just how much there is to see in the cove by Playa Danta and Dantita, enjoying the warm water, the gentle surf, and the clear visibility.
For a few suggestions as to the best spots, we recommend the leeward side of Punta Penca and the Islotes Pitahayas, as well as the reef between Danta and Dantita and the rock formations at the end of Dantita.
Equipment can be rented
from Pura Vida Ride Outfitter
Stand-Up Paddle Board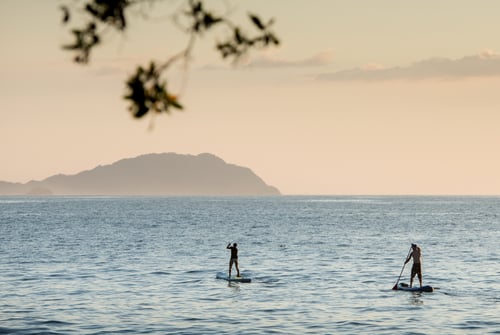 Town is located right at the water's edge, by Playa Danta and Dantita, which open up to a sheltered bay that is excellently suited for paddle boarding. Protected from the wind, with access to near-shore islands and a small and manageable surf, the bay just outside of town offers an excellent option for a paddle outing.
And with town's local outfitter Pura Vida Ride providing rentals right next to the beach, the process is simple and easy. Maybe you'll set out to explore the coastline, journey out for some yoga, or even bring a furry friend along for the ride!

Equipment can be rented
from Pura Vida Ride Outfitter


Kayaking in the Cove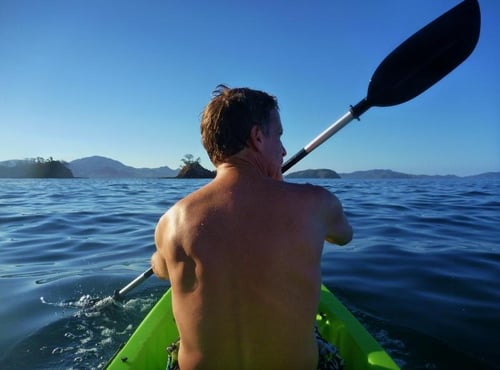 Kayaking in Costa Rica is a great way for families to get onto the ocean and experience some of the wildlife and natural beauty of the cove off of Playa Danta and the surrounding Potrero Bay. Clear, warm water and gentle wave conditions make this an excellent activity accessible for the whole family.

Equipment can be rented
from Pura Vida Ride Outfitter


Inland Day Trips
Feeling like heading inland? Check out some of these aquatic inland day trips, and explore rivers, hot springs, and waterfalls in some of the most lively natural areas of Guanacaste. Our recommendations are below, and for more options contact Concierge.
Hot Springs of Rio Perdido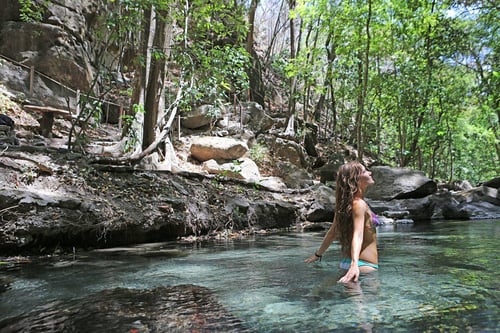 Hidden away in the inland canyons and surrounded by rich tropical forest, Rio Perdido is a great choice for a relaxing day trip. The hot springs of Rio Perdido are the main event here, with other offerings including a full spa, trails with expansive views of the canyons, sweeping landscapes, and the volcanoes beyond, and a number of other activities.
Minimum Age: 10 years
Length of tour: Full-Day
Transit: 2 Hours Each Way
Request info


Waterfalls of Kiwanda Maji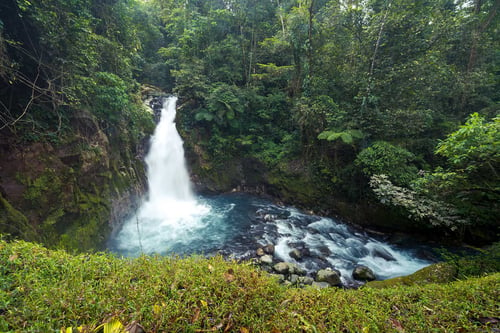 Immerse yourself in the Costa Rican rainforest by following an easy walking trail that will lead you to four different waterfalls. High points on the trail include Laguna Azul, a spring water lagoon whose water is tinted an electric blue and sources directly from the nearby volcano.
The nearby town offers the chance to taste delicious homemade cheeses, traditional tortillas and a cup of Costa Rican coffee at their own cheese factory. You can also visit the local farm and see donkeys, goats, sheep, horses, pigs, chickens, turkeys and ducks, or enjoy lunch at their restaurant, set right beside Laguna Azul in the heart of the forest.
Minimum Age: 7 years
Length of tour: Full-Day
Transit: 2 Hours Each Way
Request info
White Water Rafting at Tenorio River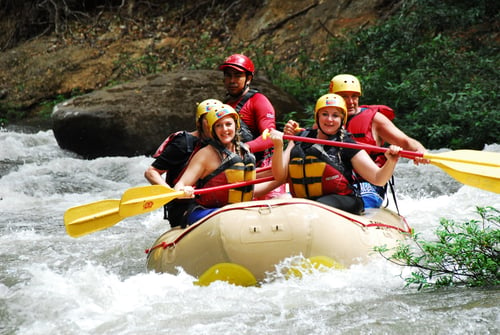 Costa Rican rafting is famous around the world, and the country has hosted the World Rafting Championship three times. So if you are a fan of the sport and looking for a high energy outing, our Tenorio River tour should be on your list.
Big waves, long rapids, exciting drops and turbulent water will be the highlights of this Costa Rica rafting tour. This adventure lasts about 2.5 hours, and takes place along 20 km of a scenic river in the heart of a lively natural ecosystem. Catch your breath midway and share stories of the experience as you enjoy fresh fruit, snacks, and rehydrate for the second wave of the ride, a heart-pounding set of rapids that finish with a 12-foot waterfall drop. For those that have had enough excitement for the day, the second set of rapids can be skipped if desired.
After all the excitement and adventure, relax and enjoy a well-earned lunch at a restaurant on the way back.
Minimum Age: 7 years
Length of tour: 2.5 Hours
Transit: 2 Hours Each Way
Request info


Note: Our Concierge team has many other options that can be personalized for you, please indicate on comments what other activities would you be interest to experienced.