Venture onto more than 42km of trails ranging from coastal cliffs to the heart of a tropical dry forest reserve
---
"It's really a haven for riding and you can do it year-round. These trails don't get old."
The mountain biking trails at Las Catalinas stretch through the heart of a 1,000 acre tropical dry forest nature reserve, featuring a mix of technical climbs, fluid flow riding, and challenging descents along more than 42 km of single track.
Trail heads are scattered throughout town within walking distance from every home, meaning its possible to go from front door to trail in minutes.
---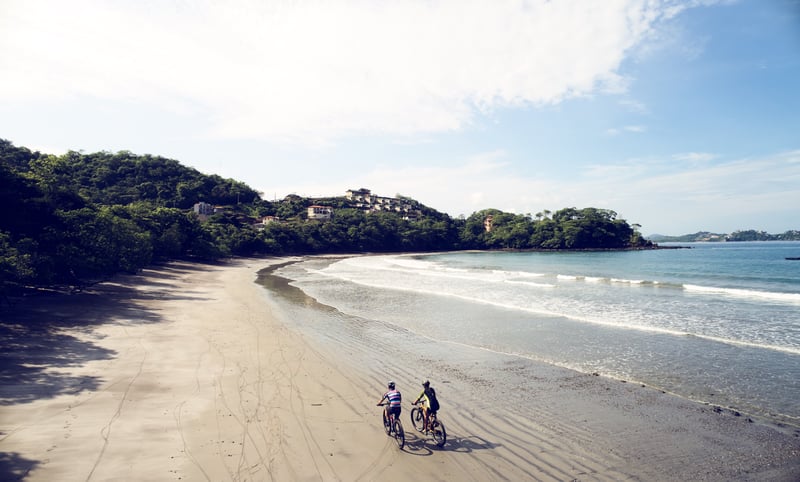 Ride through forested hills and tropical valleys immersed in nature, climb up along coastal cliff side with views of town, the hills, and the Pacific Ocean, and descend through thrilling downhills in a course designed to be accessible to newer riders and enjoyable for the seasoned veteran during any time of day or night.
The trails are accessible to anyone with a mountain bike and a trail pass, and feature events like the Las Catalinas Reto to race for your best time in a year-long competition. Local outfitter Pura Vida Ride also offers bikes, helmets and other gear, water, trail maps, snacks, and more to cover all the needs of a day on the trails.
Also, many of the routes that make up the Las Catalinas trail system receive ongoing maintenance, making the landscape the perfect place for a mountain bike ride day or night.
The team at Pura Vida Ride can also set out with you for a guided trip, tackling distances including the short 5k+ loop on Principal and La Cuesta, the longer 20k+ loop that covers the whole reserve, and the full day "Old School Guanacaste" waterfall excursion, a challenging ride through the trails across the Guanacaste landscape past Nuevo Colón to find a hidden seasonal waterfall.
Whether an expert with full gear or beginner looking to walk up and ride on a day tour, the trails are just a few steps away.