"Working together with local artisanal fishermen is a big step towards sourcing fresh, sustainably caught fish"
The area around Guanacaste has a thriving community of artisanal fishermen, who use traditional techniques like hand line fishing both to support their families and also for commercial fish sales. These fishermen have a vested interest in the continued health of the oceans around Guanacaste, and work alongside marine conservation groups like ConnectOcean to stay informed as to sustainable fishing practices to protect these marine areas.
For this experience, set out fishing with artisanal fishermen and the ConnectOcean team to learn these artisanal fishing techniques firsthand. Along the way, learn some strategies and guidelines that these fishermen use to avoid overfishing, catch fish at the right point in their life cycle, and keep their area healthy.
Afterward, take your catch back to shore to meet with an anthropologist chef for an ocean-to-table meal. You'll learn historic techniques of preparing fish, and chat about how supporting local fishermen is a major part of a sustainable seafood supply chain.
---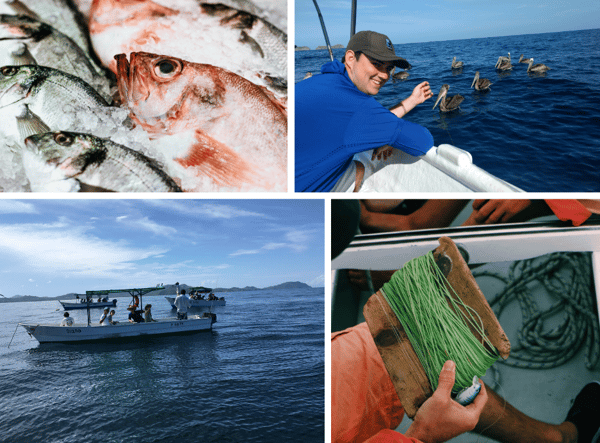 The experience begins at the beach in Flamingo, with an introduction to the ConnectOcean team and the artisanal fishermen guides for the day. Then, the whole group sets out onto the boat to fish the waters around the area. While aboard, fishermen first provide some tips on how hand line fishing works, then guide guests on making their own catch using these traditional techniques.
As fish are caught, the fishermen explain the strategies and guidelines that they use to ensure that they are fishing sustainably. The first is the hand line techniques themselves, which allow for fishermen to carefully monitor the fish coming into the boat, and follow catch-and-release protocols for restricted sizes of fish and fish species. By following overall catch limits, adhering to species guides for size and maturity, and respecting marine protected areas, these fishermen ensure that fish populations in the area stay healthy and growing, contributing to their own success and that of future generations.
After a day of fishing, guests return with their day's catch to Estero Azul, a beach side restaurant, and work with an anthropologist chef to clean and prepare a meal based in pre-Hispanic culinary styles.
This combination of fishing and culinary techniques provides a window into the history of Guanacaste as well as a promising strategy for the region's future. By learning from these historic methods, it's possible for fishermen, suppliers, conservationists, and consumers to work together to catch and cook ocean-to-table fish that are sustainably sourced, support the local coastal communities, and are as fresh as possible.
Reach out to the Las Catalinas concierge to book this experience.